BOE Information | 2020  Key Election Dates |  How to Register to Vote |  Photo ID at Polls | Absentee Ballots | First-Time Voters | Student Voting | Directory of Public Officials | Informative Websites | Our Voter Service Events
Board of Elections Information
Suffolk County Board of Elections
335 Yaphank Avenue (Street Address)
P. O. Box 700 (Mailing Address)
Yaphank, NY 11980
(631) 852-4500 (questions about your ballot, voter registration, etc.)
Nassau County Board of Elections
240 Old Country Road, 5th Floor
Mineola, NY 11501
(516) 571-VOTE
 (questions about your ballot, voter registration, etc.)
Alternate: (516) 571-2411
New York City Board of Elections - Executive Offices
32 Broadway, 7th Floor
New York, NY 10004
(212) 487-5300 (questions about your ballot, voter registration, etc.)
2021 Key Election Dates for New York State Voters
General Election - Tuesday November 2, 2021
Addtitional dates and deadlines to be announced.
REMINDER: You must be registered in order to vote. You may register to vote in a New York State county if you are a citizen of the United States, you are not in prison or on parole for a felony conviction and will be a resident of the county in which you wish to vote for at least 30 days prior to the election. You must be 18 years of age in order to vote but you may pre-register from the age of 16. If you have moved since the last time you voted, you must notify the Board of Elections of your new address; you may do so by submitting a new registration form.
How to Register to Vote
How do I register to vote?
In order to be registered to vote you must submit a voter registration form to the Board of Elections in the county in which you wish to vote. You may register by mail or in person. Voter Registration forms are available at any Board of Elections office, at town halls, post offices, libraries and various state offices as well as from the League of Women Voters. It may also be downloaded from the  New York State Board of Elections web site: click on the red for a Voter Registration Application.
The completed form should be mailed to the Board of Elections in the county in which you wish to vote.  The addresses for the Suffolk County, Nassau County and New York CIty Boards of Elections are listed above.

You may also register in person at the local Board of Elections or any state agency participating in the National Voter Registration Act, such as the Department of Motor Vehicles (see below), on any business day throughout the year. Organizations such as the League of Women Voters often set up voter registration tables at fairs, on college campuses, etc., and you may obtain a voter registration form at any of these events. 
ToRegister at the DMV Website
The NY State Department of Motor Vehicles (DMV) Voter Registration Application now offers the opportunity to complete an application to register to vote or to update the information you have on file with the Board of Elections. Updated information could include providing your County Board of Elections with your new name, new address, or changing a party enrollment. Applications completed on tthe DMV website are forwarded to the appropriate County Board of Elections for approval and processing. For more informatin about registering at the DMV, see FAQs about Electronic Voter Registration  
ID Needed for Voting in New York State
Federal law requires persons who register by mail for the first time to provide identification. Identification means a current NYS driver's license or the last four digits of your Social Security number. If you do not have either of these, you may provide a copy of a valid photo ID, or a current utility bill, bank statement, government check or some other government documentation that shows your name and address. If you did not provide identification when you registered, you will be asked for it the first time you vote.
First-Time Voters
Congratulations on Registering to Vote!
As a citizen (age 18 or older) you have the right and responsibility to vote in elections. Educate yourself on the candidates and issues in each election. Once your registration has been processed by your county Board of Elections, you will be mailed a card giving your polling place. If you do not receive the card in 4-6 weeks of registering or have questions, you can contact them.
REMINDER: New York State has a closed primary.
A closed primary means that you can only vote in a primary election if you registered with that party.  If you would like to change your party registration, you must file a new registration form. As always, please check with your Board of Elections regarding party registration timing requirements. Although only enrolled members of a party can vote in that party's primary elections, all registered voters, regardless of their enrollment with a party,  may vote for any candidate of any party on Election Day in November.
NEVER LEAVE THE POLLING PLACE WITHOUT VOTING! If your name is not on the list, ask for a provisional ballot!
Absentee Ballot
If you will be out of your county, or are physically unable to get to the polling place, you may request an absentee ballot from your Board of Elections. A mail request for an absentee ballot request must be postmarked no later than the seventh day prior to the election and the last day to apply in person for an absentee ballot is no later than the day before the election.
Absentee ballots may be requested from your Board of Elections if you meet one of the following criteria:
Absence from county on election day
Patient or inmate in a Veterans Affairs Medical Center
Temporary (or Permanent) illness or physical disability
Detention in jail/prison, awaiting trial, awaiting action by a grand jury, or in prison for a conviction of a crime or offense which was not a felony
Duties related to primary care of one or more individuals who are ill or physically disabled
Note that voters in New York State may use an absentee ballot for the 2020 general election in November without one of the above reasons because of the COVID 19 crisis. You may use Temporary Illness as your excuse.The absentee ballot itself must either be personally delivered to the Board of Elections no later than the close of polls on Election Day, or postmarked by a governmental postal service not later than the day before the election and received no later than the 7th day after the election.  Click on the red for an absentee ballot application.  We recommend that you request an absentee ballot application and submit both the application and the ballot well before the deadline.
CollegeStudent Voting
The right to vote is fundamental in a democratic society.  If you are in college, we hope that the the following information will help you decide whether to register and vote in your home district/
state or at your college address. There are many good reasons for registering and voting at either residence, but the final choice is yours. Some states do not allow college students to vote where they
attend college if they are not permanent residents in that state. If you would like to vote at your college residence, check with the town or city clerk or the county board of elections in your college community to find out if you may vote from your college address.  Emember, though, that you may only register
and vote in one location – either at your home address or at your college address.
What are the reasons for registering and voting in my college community?  In making the choice where to register to vote, you should consider that, while you might have a close relationship with and interest in your home community, you also have a stake in the local issues of your college community. Issues such as off-campus housing and zoning restrictions, the environment, taxes, transportation and personal safety all affect your quality of living. Voting in your college community also is more convenient and relieves you of the need to apply for and return an absentee ballot. Registering and voting at college can give you the opportunity to become involved with, and informed about, the local issues in your college town or city. Becoming involved in the issues, and learning about local politics, are some of the ways in which you can begin to build a relationship with other residents of the community. If you consider the college community your primary residence, you should register to vote in that community. If you have concerns about submitting your voter registration application in your college community, check with your campus student affairs office, NYPIRG chapter, or other student organizations involved in political activity. You can also check with the town/city clerk, the county board of elections, or the local League of Women Voters.
What are the reasons for registering at my home address? If you don't consider your college community your primary residence and/or you have a special interest in the local issues at your home address, you have a good reason for voting there. The people and issues you vote for will have a more lasting impact on you if you intend to return to this location to live. It is also possible that you are still subject to taxes and student loan/scholarship regulations at your home address. If this is the case, having a voice in the policy decisions about these issues might be important for you. Just remember, if you want your vote to be counted at your home residence, you must be registered at that address and be aware of absentee ballot regulations and procedures. If you are not from New York State and wish to vote in your home community, check your state's board of elections web site for information about how to do so.  (Abstracted from LWVNY brochure: Your Right to Vote in NYS-College Students)
2019 Directory of Public Officials
Every year the Suffolk County League of Women Voters publishes a directory of public officials representing the residents of Suffolk County.  The directory provides contact information for each ofice-holder as well as information important for voters.  You may access the current directory by clicking on the button below.
Informative Websites
For information about NY State elections, go to LWV of NY website and choose Voter Services from the menu on left. Information is available in English, Spanish and Chinese.
Choose Voting from the menu across the top for the following information:
Voter registration and voter information
How to register to vote
Absentee ballots
Election schedules, links to more voter resources
Registration forms
Online registration forms
We Sponsor Candidate Events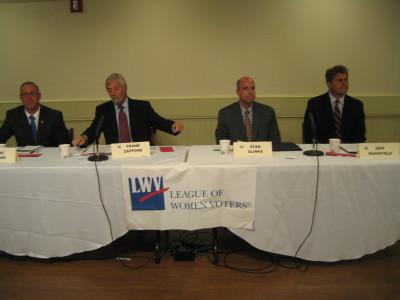 We Register Voters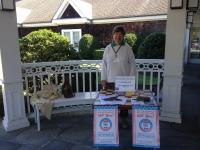 The League of Women Voters encourages citizens to register, vote and participate in government and politics. We sponsor candidates meetings, debates and interviews; conduct voter registration drives; provide information to the public about voting; and get out the vote on Election Day.
Interested? Join us today.
 For LWV Hamptons, contact: 631-324-4637.