Suffolk County
Voter Services | Local Debates | Contact Us
The League of Women Voters is a nonpartisan political organization encouraging informed and active participation in government. It influences public policy through education and advocacy.
Visit Vote411 to find out if you are registered to vote, your polling places and races and candiddates who are on your ballot.





Visit the Suffolk County Board of Elections here.
Many election day polling places have just been changed for those planning to vote in person on Primary Election Day, June 23.
Suffolk County has consolidated its 335 polling sites down to only 122 locations for those planning to vote in person on Primary Election Day, Tuesday June 23. Early voting (until June 21) locations are different... find that information at https://suffolkcountyny.gov/Departments/BOE/Early-Voting-Sites-6-23-2020.
To find your June 23 polling place visit the NYS Board of Elections website: http://voterlookup.elections.ny.gov/ or visit Vote411.org.
Newsday's recent The Point newsletter contains more details:

Hundreds of LI poll sites to go dark on Tuesday:
Newsday June 18, 2020, Talking Point

Hundreds of regular polling sites across Long Island will be closed for the June 23 primary, county elections officials told The Point Thursday.

Normally, Nassau County would have 360 open polling places for the primary, but that will be consolidated to 223.

In Suffolk, the 335 traditional sites will be slashed to 122.

The reason? "Combination of available pollsites, pollworkers who were available to work, as well as the number of ballot marking devices," Nassau Democratic elections commissioner James P. Scheuerman said in a text, noting that more workers and equipment were needed to handle two separate ballots — many voters will have a presidential primary ballot plus a state and federal one.

Suffolk Republican elections commissioner Nicholas LaLota pointed to a similar staffing issue during a pandemic. Most election days, he said, Suffolk employs about 5,000 temporary employees who work the polling places. This time only about 2,000 inspectors confirmed they could work on Tuesday.

"The majority of those who aren't working have cited concerns relating to COVID," he wrote in a text.

That may not be surprising given that many people who work election days tend to be in the older age groups more endangered by the coronavirus.

Thousands of Long Islanders will be affected by the closures. Around 25% of the Nassau voters eligible to vote in Tuesday contests will have a different polling site, said Scheuerman. In Suffolk, it's about half, LaLota said.

Both counties said voters affected by the closures are receiving information about their poll change by mail.

The Point asked the commissioners whether the changes portend long lines to vote on Tuesday, particularly dicey during a public health crisis.

Both suggested the number of voters at the ballot box on Tuesday will be reduced by widespread absentee ballot requests and early voting — which, by the way, continues through Sunday.

—Mark Chiusano @mjchiusano
If you have questions about your NYS primary absentee ballot, call the Suffolk County Board of Elections at 631 852-4500.

DO NOT CALL THE LEAGUE OF WOMEN VOTERS about missing ballots at this date, we are not affiliated with the Board of Elections and thus would have to re-direct you to them. Even if you've requested an absentee ballot, you may instead vote in person- that is the vote that will be counted for you.

Early Voting sites in Suffolk County for the Primary Elections will be open from June 13 through June 21. You can find the locations and hours at https://suffolkcountyny.gov/Departments/BOE/Early-Voting-Sites-6-23-2020.
Sign up for the League's new text alert system to get real time updates on voting changes related to COVID-19.

Text VoteNY to 474747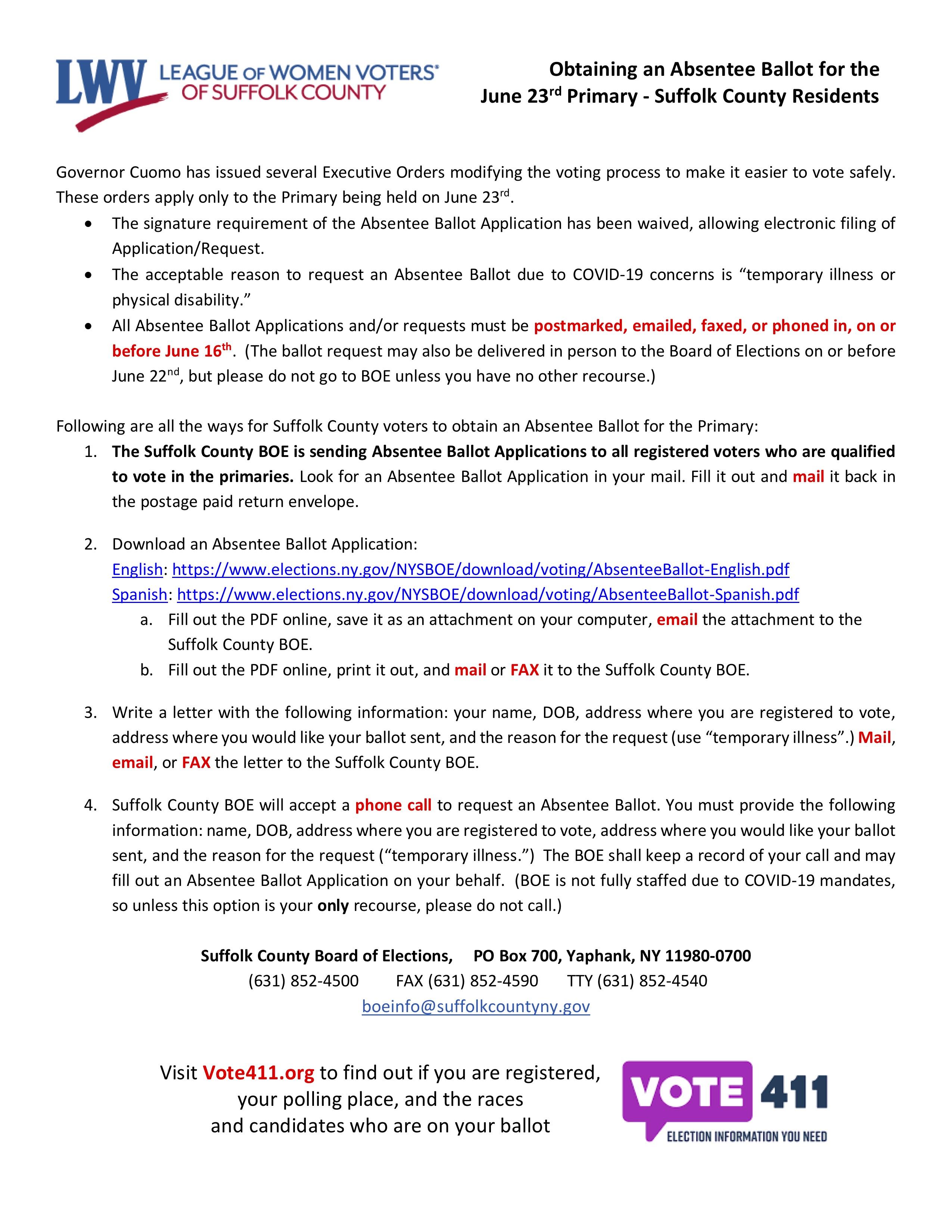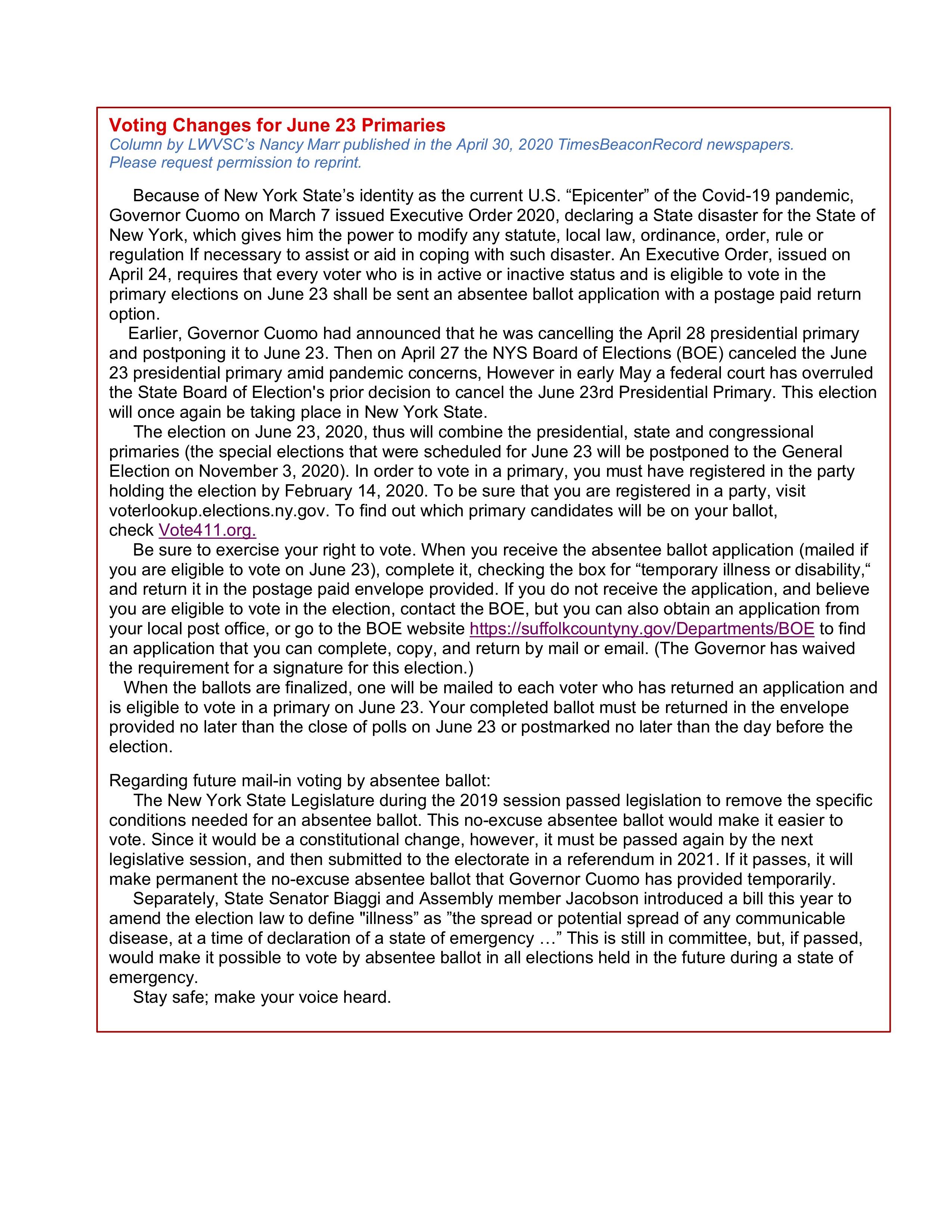 If you need information from the League of Women Voters please lwvsuffolk [at] gmail.com (email) or leave a message at 631 862-6860.
The League of Women Voters of Suffolk County's annual Student Days at the Suffolk County Legislature (April 2 in Hauppauge and April 16 in Riverhead) have been cancelled.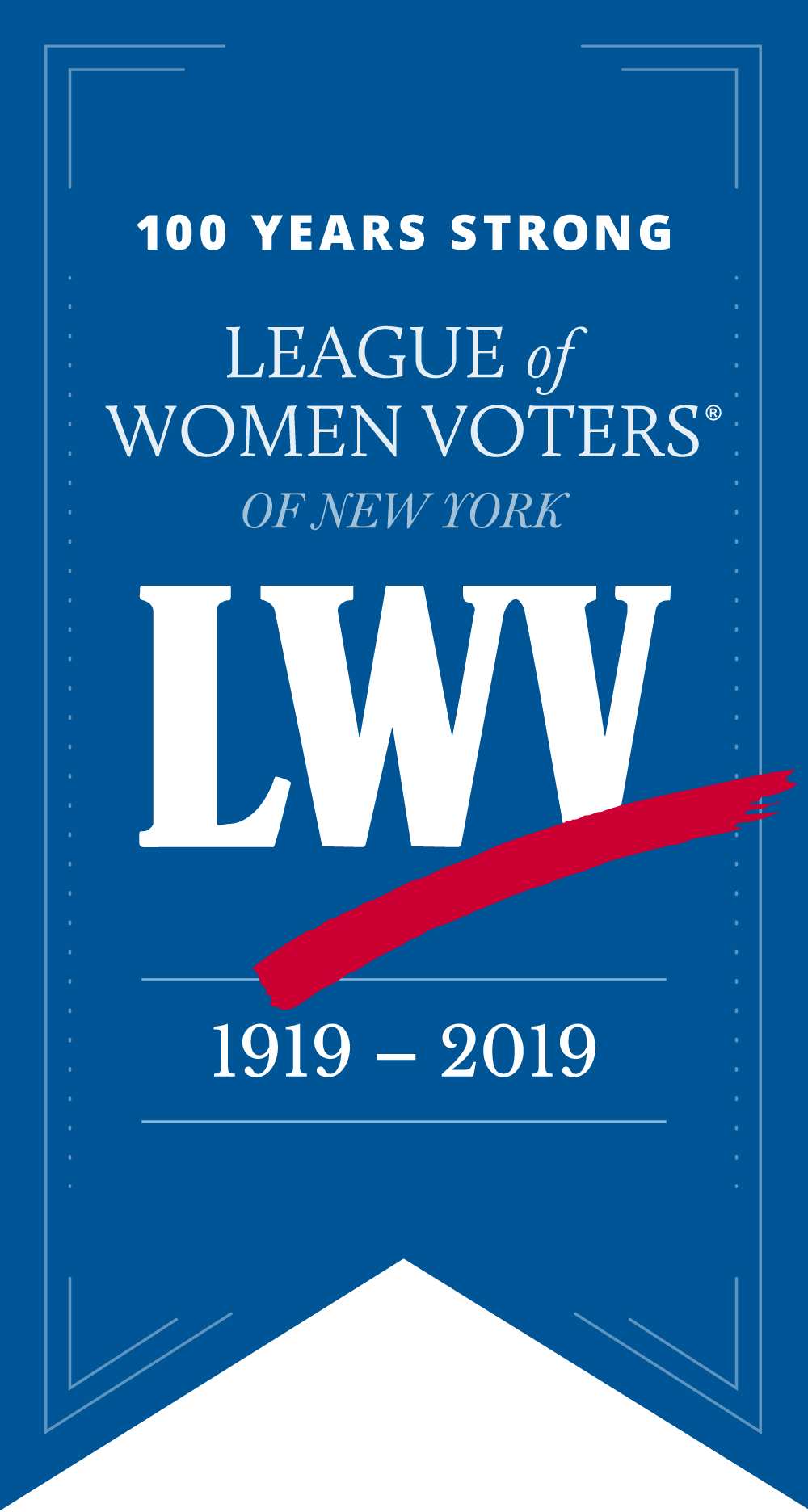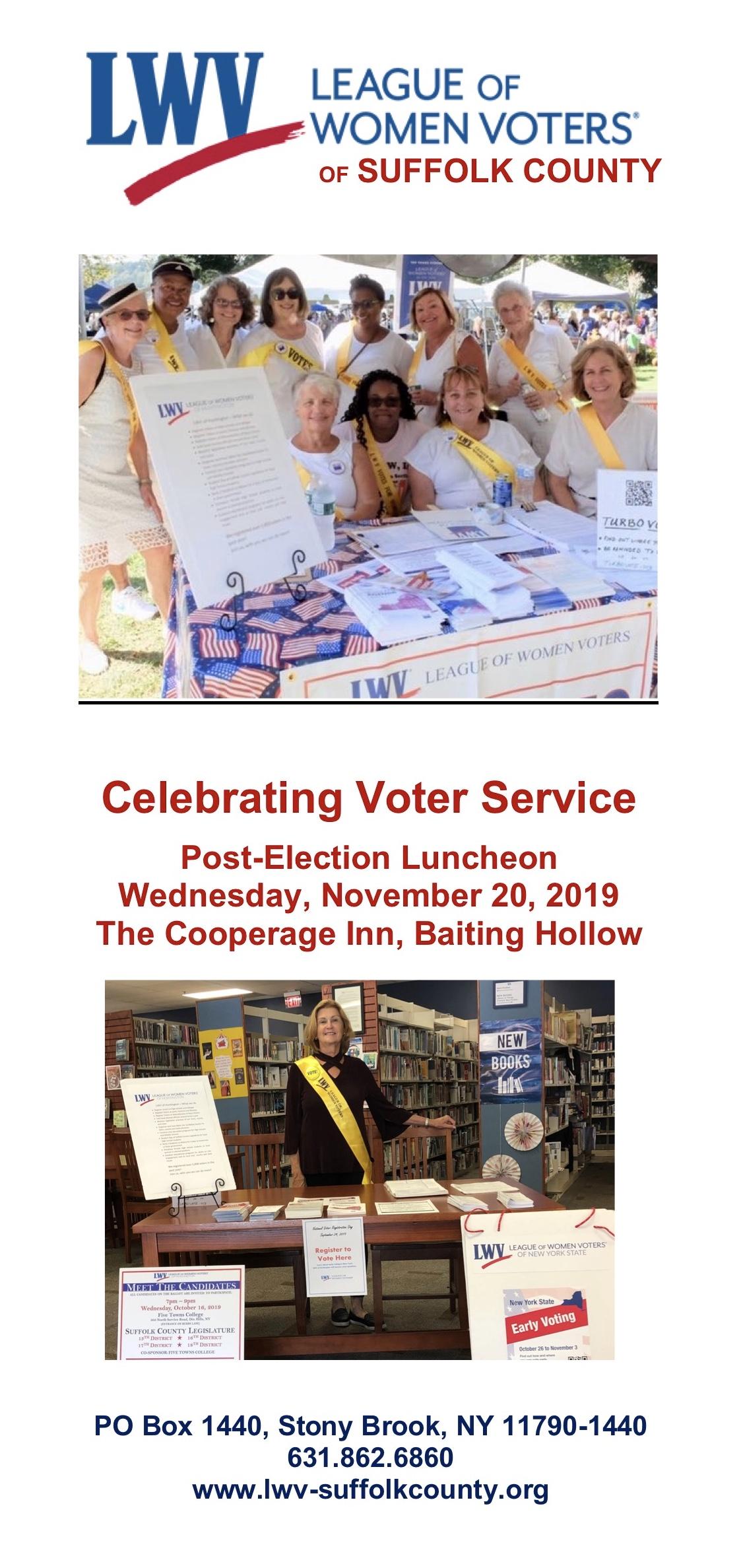 The League of Women Voters of Suffolk County, and local Leagues in Brookhaven, Hamptons, Huntington, Shelter Island and Smithtown spend countless hours on voter registration, voter education, candidate debates and voter service. Please click on the trifold cover above to read the impressive list of LWV voter service activities in 2019. You can help in 2020- contact a local League or consider making a tax-deductible donation to our Education Foundation.